Large Depth Ultra Low Humidity Dry Cabinet
McDry Ultra Low Humidity Dry Cabinets are utilized worldwide for storage of automotive parts such as engine components, bearings, springs, ball sensors for gyroscopes, plungers and metallic raw material in production of valves to prevent moisture absorption as well as rust and oxidation from occurring. McDry has also been used for drying and storage of fiber optics such as micro-lens for WDM, and CCD, solid state image sensors.
In addition to the type shown above, deeper types are also available. Contact us for details.
Dry Cabinet Key Features
Compliant to ESD-IEC61340-5-1
Made-to-order product
Can maintain an RH level of 1%.
Equipped with a digital RH Meter.
Locking doors.
Shelves are adjustable and can hold 220lbs. (100kgs)
Grounded to prevent static electricity.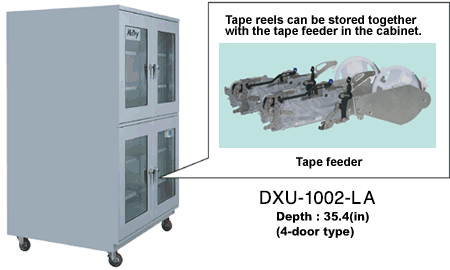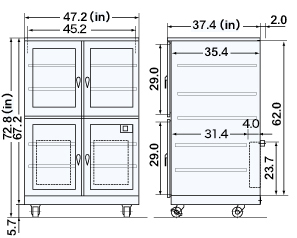 Specifications
| | |
| --- | --- |
| External Dimensions | 47.2W x 37.4D x 72.8H (in) |
| Internal Dimensions | 46.0W x 34.7D x 62.7H (in) |
| Capacity | Approx. 56.5 Cu Feet (1600 Liters) |
| Dry Unit | USF-7200 x 2 |
| Material | High-grade steel construction with ESD-safe and Anti colosion coating |
| Color | Silver |
| Doors (Magnetic) | 4 Doors with glass windows |
| Weight | Approx 551 lbs. (250 kgs.) |
| Electrical Requirement | AC 120V (50/60Hz) 57 W/h Max 500W |
| Accessories Included | 5 Shelves, Locks, RH meter, Casters, Ground terminal |
Note: The specifications are subject to minor change for improvement of the product
McDry Ultra-Low Humidity Storage Cabinets: Products
McDry Ultra-Low Humidity Storage Cabinets: Brochures
McDry Ultra-Low Humidity Storage Cabinets: Technical Articles
McDry Ultra-Low Humidity Storage Cabinets: Representatives