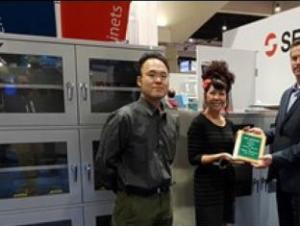 Seika Recognizes Top Performing McDry Reps during APEX.
TORRANCE, CA - February 3017 - Seika Machinery, Inc., a leading provider of advanced machinery, materials and engineering services, is pleased to announce its top McDry representative for 2016. The top three reps were recognized during the recent IPC, APEX, EXPO in San Diego. The top McDry reps in order of sales performance in 2016 are:
Armand Karolian/ Assembly Tech, LLC
Tommy O'Conner/Hisco, Inc.
Ernesto Bader / Ceiba Technologies, Inc.
"Seika Machinery appreciates the enthusiastic support of our sales representatives and distributors for the McDry cabinets," said Michelle Ogihara, Seika Machinery's Senior Sales Managers. "Our customers and sales network have confidence in the quality critical dry storage applications. This year at APEX we featured the N2 Auto-Purge and popular Feeder storage models."
McDry dry boxes, dry cabinets and desiccators provide optimal ultra-low humidity and moisture-proof storage for IC packages. Moisture-sensitive components - when safely and properly stored in McDry - have an indefinite floor-life and micro-cracking or pop-corning during the reflow process is not an issue.
Other storage application for McDry include original prints, printed wiring boards (PWBs), polyamide film, tape reets, feeders and various electronic components and materials. McDry cabinets conform to IPC/JEDEC J-STD 0033C and IPC 1601.
For more information abut Seika's complete product line, contact Michelle Ogihara at mailto:michelle@seikausa.com or visit http://www.seikausa.com.
Picture caption: From left to right: Ban Saito, Michelle Ogihara and Mark Edwards.