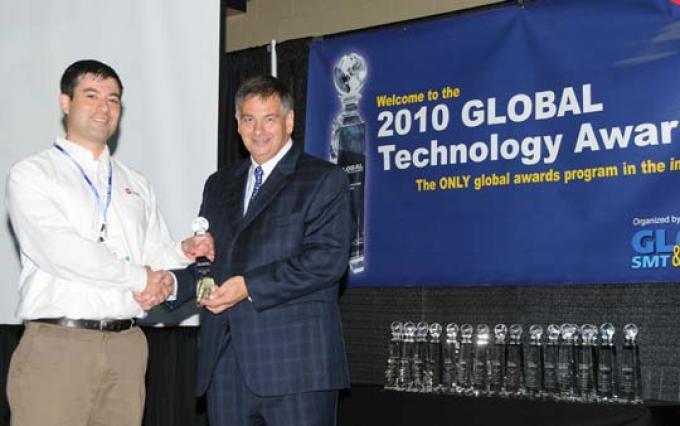 Seika Machinery, Inc., a leading provider of advanced machinery, materials and engineering services, announces that it has been awarded a Global Technology Award in the category of Environmentally Friendly Products/Services for its Solder Paste Recycling (SPR) unit. The award was presented to Tim Cappoen, Branch Manager & ATE Account Manager, during a Tuesday, October 26, 2010 ceremony that took place during SMTA International at the Walt Disney World Swan and Dolphin Resort in Orlando, FL.
Solder paste used with screen printers has a limited shelf life. When solder paste is exposed to the environment, solvents evaporate and cause it to dry. This leads to misprints, which requires disposal since it is no longer useable. However, instead of disposing of it, solder paste now can be recycled in-house.
Seika's new SPR Unit enables the separation of flux and solder, using a special solder pot mechanism that inverts during each cycle. In approximately 34-45 minutes, the unit turns wasted solder paste into solder bar. The maximum volume per cycle is approximately 5.5 lb (2.5 kg).
The easy-to-use system enables approximately 90 percent of waste solder paste to be recovered as solder bar. The system provides a major decrease in disposal costs for factory waste, a reduction in CO2 emissions, and reduced costs for solder bar as a result of recycling waste.
Premiering in 2005, the Global Technology Awards program is an annual celebration of product excellence in electronics surface mount assembly. Premier products based on the finest examples of creative advancement in technology are chosen by a distinguished panel of industry experts.