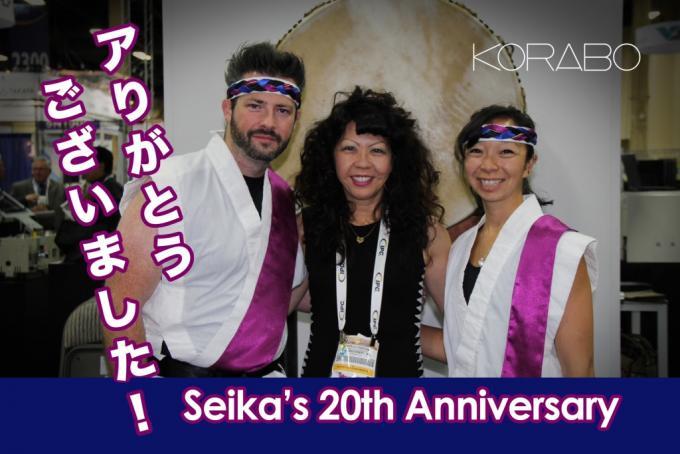 TORRANCE, CA — April 2014 — Seika Machinery, Inc., a leading provider of advanced machinery, materials and engineering services, today announced that its 20th anniversary celebration held during the recent IPC APEX EXPO was a huge success. The company commemorated this anniversary with a special Taiko drum presentation at its booth. 
Small, unique gifts were distributed and the launch of several new models in the company's existing lines such as the Hioki 1240 FA Flying Probe Tester and the Sayaka SAM-CT23W Twin Table Router. In addition, the advanced, high-technologyEightech Tectron Vacuum Reflow Oven from Seika's newest supplier was formally introduced.
In the evening at the annual sales rep and appreciation dinner, a special sake cask opening celebration took place. This ceremony is called the Kagami Biraki ceremony in which historically, the fourth Tokugawa Shogun 300 years ago gathered his warriors before going to war to break open a sake cask. Since the battle was successful, this ceremony has been set for celebration of many auspicious events including in Seika's case, the 20th anniversary of the US company.
Seika Machinery's President, Mr. Isao Muraoka, joined Seika Corporation, Parent Company, President, Mr. Hiroyasu Nishi, and Mr. Takahashi Noriyuki, General Manager of New Business Development in Corporate Planning Department, to help kick off the company's 20th anniversary.
For more information about Seika Machinery, visit www.seikausa.com.