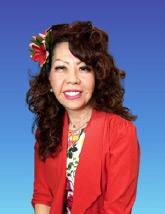 TORRANCE, CA — March 2023 — Seika Machinery, Inc., a leading provider of advanced machinery, materials and engineering services is pleased to announce the promotion of Michelle Ogihara to Vice President of Sales, effective on March 1st.
Isao Muraoka, President and CEO commented about the promotion: "Michelle has been working for us for 24 years. Since starting her career at Seika Machinery, she has played a fundamental role in sales and marketing in our organization. Michelle is an enthusiastic, communicative and take-charge leader who is able to present creative ideas and bring benefits to our customers and business partners. I believe her elevated leadership as VP of sales contributes to growing our company and the industry altogether."
Ogihara joined Seika Machinery in November of 1998. As the Senior Sales Manager and Sales and Marketing Manager, she has been a key driver to the company's success overseeing the national sales, marketing and distribution of Seika equipment throughout North and South America. An active member of the SMTA, Ogihara has held various board positions as a chapter leader, Co-Chairs the MSD Council and serves on several committees on the National level. She is a past recipient of the SMTA "Excellence in Leadership Award."
Ogihara has chaired technical sessions at SMTAI conferences and lead break-out sessions during past SMTA Leadership Forums on numerous chapter involved topics. She has served on the Board of Directors for many years on the Planning Committee and as VP of Communications and established the SMTA Ambassador Program.
Her previous promotion and added responsibility for Seika included the position of Branch Manager for the San Francisco office handling the lines of Malcom, Unitech and Eightech equipment in addition to current Seika Machinery solutions. Ogihara is proudly one of the founding members of the SMTA Women's Leadership Committee dedicated to uplifting and empowering women in our industry.
"I'm looking forward to creating more exposure for Seika Machinery products and strengthening our relationships both with existing and new customers and our sales network! I truly appreciate the many opportunities that Seika has provided me throughout the years and the customers, principals, colleagues and partners who have supported me as well!" said Ogihara about her promotion.