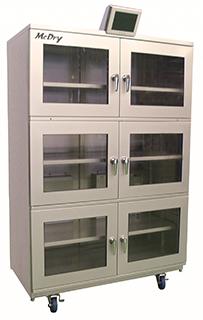 TORRANCE, CA — June 2020 — Seika Machinery, Inc., a leading provider of advanced machinery, materials and engineering services, is pleased to announce new upgraded features for all McDry Electronic Drying Storage Cabinets. Available options include MSD control tracking software and multiple data loggers including wireless, intranet and cloud-based systems with alert capabilities. Upgraded features include:
Energy-saving Eco-mode equipped

Drying unit including fan quickly dehumidifies

Door open/closing frequency: Once every 10-20 minutes

Equipped with a digital RH Meter

Doors seal lightly and lockable

Compliant to ESD-IEC61340-5-1 Standard

Powerful desiccant never needs replacement

Shelves are adjustable and can hold 220lbs (100kg)
McDry Electronic Drying Storage Cabinets provide optimal ultra-low humidity and moisture-proof storage for IC packages. All McDry models maintain one percent RH. Compared with the past version, the new model's dehumidification speed and recovery to set point is two to three times faster.
For more information about Seika's complete product line, contact Michelle Ogihara at michelle@seikausa.com or visit www.seikausa.com.