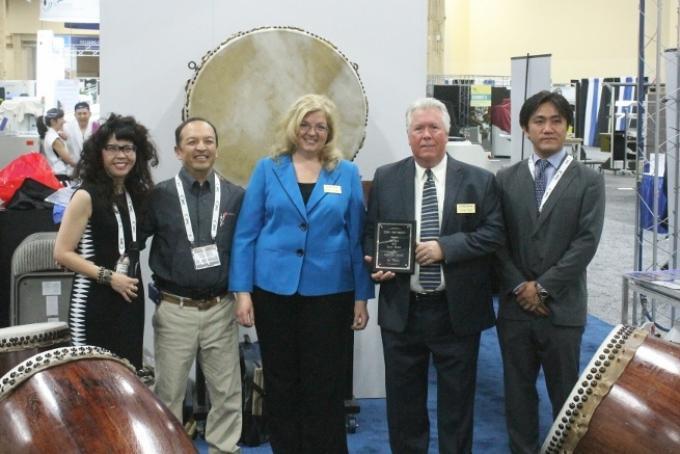 TORRANCE, CA — April 2014 — Seika Machinery, Inc., a leading provider of advanced machinery, materials and engineering services, awarded Horizon Sales first place for achieving the highest Sayaka sales in 2013. The award was presented to Dave Trail, Principal, Horizon Sales, during a Wednesday, March 26, 2014 ceremony that took place at the Mandalay Bay Convention Center during the IPC APEX EXPO.
"Horizon Sales has represented Seika Machinery for the Sayaka routers since we became the exclusive agent for the line more than eight years ago," said Michelle Ogihara, Seika's Senior Sales Manager. "Horizon Sales has been one of our top sales representatives for this equipment and Dave Trail is an outstanding leader in his organization."
Seika Machinery recently introduced theSayaka SAM-CT23W Twin-Table PCB Router. The two-way flexible setting twin-table design provides faster, high precision processing and accommodates two boards up to 9.8×13″ (250x330mm). The flexible twin fixture tables can be converted into one large size fixture table that accommodates one PCB up to 13×20″ (330x500mm).
A renowned manufacturers' representative corporation, Horizon Sales supplies machinery and supplies to the electronics industry. Located in Brighton, Michigan and Lockport IL, Horizon manages and sells to the Midwestern states of Michigan, Ohio, Indiana, Kentucky, Western Pennsylvania and has recently added Illinois, Eastern Iowa and Wisconsin. In business for more than 20 years, Horizon supplies equipment and supplies to some of the most well-known names in the industry.
Horizon Sales has represented Seika Machinery's advanced machinery throughout Ohio, Michigan, Indiana and Kentucky since INSERT YEAR. The firm also now represents Chicago, most of Illinois, Southern Wisconsin and Eastern Iowa.
For more information about Horizon Sales' products and services, contact Dave Trail, Principal, at 800-234-8688 or on the web at www.horizonsales.com.
For more information about Seika Machinery, Inc., email info@seikausa.com or visit www.seikausa.com.