Characteristics
Eightech's new RV Series vacuum oven has pushed the limits of optimal cost/performance.
Significantly decreased the void

With combine the solder, the void space can be saved maximum less than 1%.
Improved the electrical characteristics and the connection reliability of the product.

In-line type for mass production

Min. 30 sec tact speed time for mass productions

Convection heating system

One time soldering and vacuum reflow on the double face PCB, the void can be decreased.
The metal PCB with the heat sink of aluminum can be solder.
The temperature variations less than the hot plate heating system, the reflow time can be shorten.

Ultra low power consumption to promote saving energy.
Large-capacity flux collection unit to increase operation hours

The cleaning flux frequency several times a year.

Available for N2 or Air reflow equipment.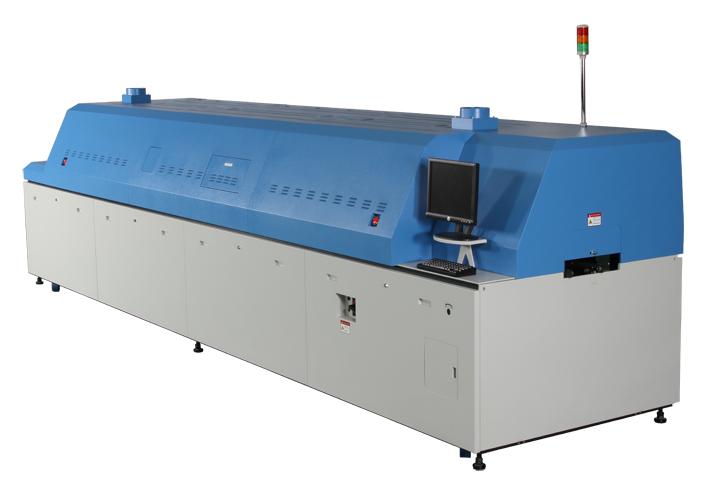 Main Characteristics
Efficacy by the vacuum operation
In combination N2 circulation heating with vacuum system, the void occurrence is made to reduce drastically even the wide-area soldering.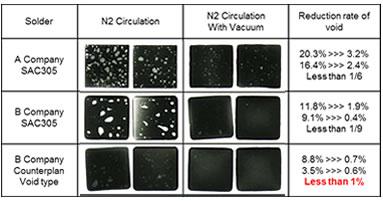 Performance of heating and vacuum processing
With combine the convection heating system and the vacuum, soldering quality beyond the concept of the conventional temperature profile conditions is possible by small zone.
Made a small vacuum chamber to able to min 30 sec tact speed time for mass productions.
Possible to vacuum soldering of small parts for low heat resistance. RSV Series can be solder the thick plate of copper or aluminum.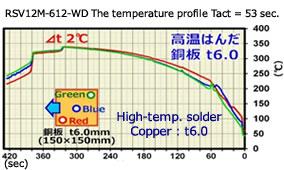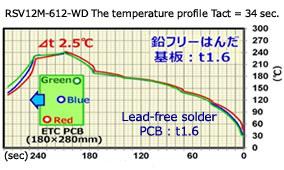 Ultra low power consumption to promote saving energy
The light weighting and high insulation of the furnace body can lower the power substantially, can save huge energy consumption and lower the cost of electricity.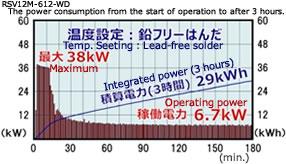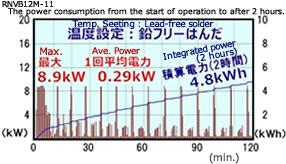 High heat-insulation designed
Used low thermal conductivity material. Combine the double heat-insulation material, resinification of cover for insulation material and lower the power substantially, can save energy consumption and CO2.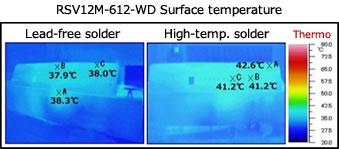 Flux collection unit and filter unit
The large-capacity flux collection unit makes less cleaning frequency. Also it is easy to handle replacing and cleaning radiators.
The multistage special filter can be protected from the dirt of the vacuum pump. It is easy cleaning filter.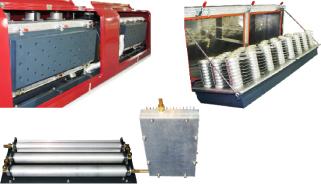 Specifications
Model No.
RSV12M-612-WD
RNV12M-512
RNV12M-411
RNV12L-411
RNVB12M-11
Heating Zone
6
5
4
1
Vacuum Zone
1
Cooling Zone
2
1
Power
AC200V

 

3Φ 116A

AC200V

 

3Φ 103A

AC200V

 

3Φ 96.5A

AC200V

 

3Φ 110A

AC200V

 

3Φ 29A

Start up Power
Max. 39.9kw
Max. 35.5kw
Max. 33.3kw
Max. 38.0kw
Max. 10.8kw
Heating Temperature
Max. 350℃
Max. 280℃
Max. 280℃
Vacuum
1 ~ 10kPa
1 ~ 12kPa
5 ~ 10kPa
N
2Consumption
Approx. 300 ~ 400L/min
Approx. 200L/min
Dimension
Length
5,140mm
5,580mm
4,780mm
6,425mm
1,082mm
Width
1,310mm
1,760mm
Height
1,500mm
1,280mm
PCB
Width
100 ~ 330mm
100 ~ 250mm
100 ~ 400mm
75 ~ 250mm
Length
100 ~ 250mm
100 ~ 330mm
100 ~ 500mm
100 ~ 330mm
Component Height
Upper
30mm
Lower
30mm
30mm ※
Flux Collection
Standard Equipment
Option
PC set, UPS, Monthly Timer, Specific Color, Other
Eightech Reflow System: Products
Eightech Reflow System: Brochures
Eightech Reflow System: Representatives