Main Characteristics
Eightech's new NJ08 Series N2 Reflow Oven has pushed the limits of optimal cost/performance. Eco-friendly ultra low power consumption. The light weighting and high insulation of the furnace body can lower the power substantially. The latest NC06 series can save huge energy consumption and lower the cost of electricity.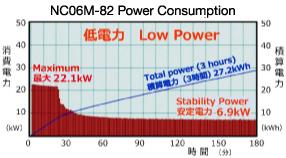 Heat-insulation designed for consideration of working environment. With Low power consumption, the high efficient heat insulation achieved low temperature of cover surface that would not affect to air-condition in production area.
Large-capacity flux collection unit to increase operation hours. The large-capacity flux collection unit makes less cleaning frequency. Also it is easy to handle replacing and cleaning radiators.
Characteristics
Precise and high quality heat up performance
Ultra low power consumption (40% reduced comparing with our previous model)
Large-capacity, High efficient flux collection
Heat-insulation designed for consideration of working environment
Specifications
Model No.
NC06M-82
NC06M-102
NC06M-123
NC06L-82
Heating Zone
8
10
12
8
Cooling Zone
2
3
2
Power
AC380V 3Φ 38A
AC380V 3Φ 47A
AC380V 3Φ 59A
AC380V 3Φ 44A
Start up Power
Max. 24.0kw
Max 30.0kw
Max. 38.0kw
Max. 27.0kw
Normal Power
Approx. 6.9kw
Approx. 8.3kw
Approx. 10.0kw
Approx. 8.3kw
N 2 Consumption
Approx. 15 ~ 18m3/h
Approx. 18m3/h
Dimension
Length
5,060mm
5,630mm
6,660mm
5,431mm
Width
1,360mm
Height
1,450mm
1,520mm
Weight
Approx. 2,300kg
Approx. 2,600kg
Approx. 3,100kg
Approx. 2,500kg
Heating Length
2,600mm
3,280mm
3,900mm
3,000mm
PCB Width
50 ~ 400mm
50 ~ 500mm
PCB Length
70 ~ 500mm
70 ~ 600mm
Component Height
Upper:27mm  Lower:27mm
Flux Collection
Standard Equipment
Eightech Reflow System: Products
Eightech Reflow System: Brochures
Eightech Reflow System: Representatives